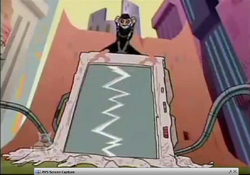 Elevator Monster
First Appeared: Pit of Doom
Character: Evil Force
Gender: Male
Personality: Destructive
A psychic being that serves the Skeleton King. He looks like an old man, except that his waist and below is an elevator-like protrusion instead of feet. He has the ability to transport anybody who comes into the elevator to a completely different spot. He disguised himself as an old man in an elevator, leaving many people inconspicuous.
Ad blocker interference detected!
Wikia is a free-to-use site that makes money from advertising. We have a modified experience for viewers using ad blockers

Wikia is not accessible if you've made further modifications. Remove the custom ad blocker rule(s) and the page will load as expected.