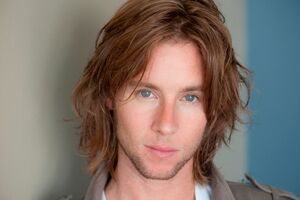 Gregory Michael Cipes (born January 4, 1980) is an American voice and film actor. He's also a singer, musician, composer, and professional surfer.
Voice Actor
Cipes' best known role is Beast Boy in the Teen Titans animated series. He would continue to reprise the role in the series spin-off movie: Teen Titans: Trouble in Tokyo, as well as the video games: Teen Titans, the video game adaption of the Series and the upcoming online video game: DC Universe Online, and was the voice of Atlas in the 2003 Astro Boy anime series. He is also widely known for his current role as the voice of Kevin Levin in Ben 10: Alien Force and in future variations of the Ben 10 Franchise. He is also referred to in the comic Teen Titans Go #26 as a stunt double named Craig Snipes. In 2012, he began working on Nickelodeon's Teenage Mutant Ninja Turtles as Michelangelo.
Television
Movies
Cipes played the character Tyler in the 2003 horror film Inhabited and the character Reed in the 2006 comedy film Pledge This! and also had a small role in John Tucker Must Die and Boys & Girls Guide To Getting Down. He played the role of Hippie Diplomat in The Onion Movie and Zack in the horror movie Simon Says. He was featured in Deon Taylor's 2008 movie Nite Tales and played a cowboy racecar driver named Dwight in Fast & Furious.
Television
Cipes has made numerous appearances on television in both commercials and television programs. He was one of seven friends in the MTV reality show Twentyfourseven. Cipes made some guest appearances on One on One as Butter, one of Arnaz Ballard's band members. He guest starred on House M.D. in the episode Family as a cane salesman. He has made appearances in the television series Gilmore Girls, in the season four episode "Ted Koppel's Big Night Out", and Deadwood. Cipes has also guest starred in an episode of Ghost Whisperer in the episode "Love Still Won't Die". He appeared as a freegan in the Bones season six episode "The Body and the Bounty". He is also the voice of Steve Jackson on the television series Fish Hooks. He also plays a man who camps out in Roseanne's yard in her series Roseanne's Nuts.