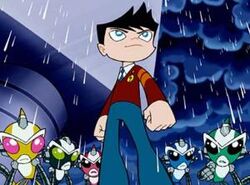 Hyperforce
Information
The Hyperforce is the main group within the series, and is the only known group that always fights the Skeleton King.
It's stated they're the only force that can save the universe from the Skeleton King's wrath, and was mostly created by the Alchemist as the protectors of Shugazooom.
Trivia
Chiro is the only main member of the Hyperforce that isn't a monkey. The only other possible member that's also human is Captain Shugazoom.
Ad blocker interference detected!
Wikia is a free-to-use site that makes money from advertising. We have a modified experience for viewers using ad blockers

Wikia is not accessible if you've made further modifications. Remove the custom ad blocker rule(s) and the page will load as expected.